Look for us in this year's Best of The Best Magazine! Voted Best Dance Studio for 2014!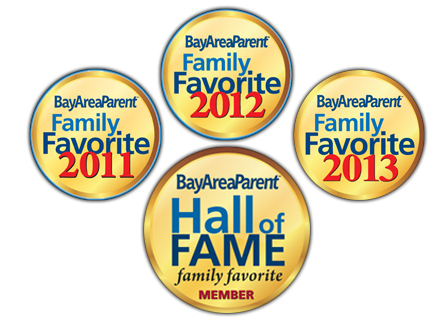 Voted Best Dance Studio on the Peninsula 4 consecutive years!
Weekly Studio Schedule
If you have a dancer under the age of 5 and would like to take a class in our studio please click below.
View Weekly Studio Schedule
On-site Dance Classes At Your School
If we teach classes at your school and you are interested in signing up please click below.
View Locations & Schedules
Kid, Teen, and Adult Dance Classes
Our older classes have moved to our new program, Principal Creative & Performing Arts.
Go to Principal Arts Website
Small Fry Dance Club's Mission
Small Fry Dance Club's mission is to instill a love of dance in children, their family, and their community. Each dancer will be challenged to strengthen their body awareness, spatial awareness, flexibility, balance, creativity, movement technique, and appreciation of the performing and creative arts. We want dancers to crave movement for physical fitness, artistic outlet, and even emotional comfort. Our goal is to provide age-appropriate movement classes and performance opportunities for toddlers, preschoolers, and school age children. No matter the degree of each child's dance goals, discovering movement should be nothing but empowering. Dance starts here!

About our classes
Small Fry Dance Club offers infant, toddler, and preschool dance classes to kids all over the Bay Area. You have the option of dancing in our public dance studio or on-site at private preschool locations. If you are a parent of director and you would like to bring our program to your school, please contact us. We are available to teach preschool and school age children. 
Award Winning Program
Small Fry Dance Club has been named "Best Dance Studio" by multiple Bay Area publications including Bay Area Parent Magazine, Redtri.com, and ChatterBlock.com. We have won a Gold Medal for 4 consecutive years and have been named a  "Hall of Fame" Award Winner from Bay Area Parent.

Our older daughter has been dancing with Small Fry Dance for 4.5 years now. She loves learning all the moves for the Winter and Summer performances. During this time she has had the opportunity to have great teachers, Teacher Courtney, Teacher Christa and Teacher Jana (owner) are some of them…They are also really accommodating with Make up classes and really loving with the girls. At this moment our daughter is graduating but we are looking forward to continue building good memories with our youngest one. 
Thank you Small Fry Dance Club!
Adriana G.
We love Small Fry Dance Club – My older daughter was introduced to Jana and Small Fry Dance club in pre-school at CCLC Redwood Shores. She very quickly fell for teacher Jana and dance in general. Now my younger daughter is in dance class too and it's so fun to see the new routines and the impossibly cute recitals. Jana runs a tight ship – the classes are fun and creative, the recitals are ADORABLE and best of all the teachers are GREAT with the little ones. So nice to see kids enjoy dance and music

Thanks Jana!!
Jennifer R.
LATEST NEWS
New Crawl About Classes!
Small Fry Dance Club is happy to announce the launch of our Crawl About program. Our Crawl About program will be an unstructured, teacher-led class for infants as young as 9 months. Monthly themes will be incorporated. Registration is open now! Classes start August 2014.
New Location Coming Soon!
UPDATE: We just got word from the city that our building permits will be approved! Knowing that our contractor will start working on the build out this week 8/8/2014. It will take him 6-8 weeks to complete the build out, but we are all pushing to get it done by Mid-September at the latest. We will keep you posted on the exact opening date in the next few weeks as the build out time table becomes more clear. Super excited to get all of you in there! Feel free to continue registering for both classes that are running now and for those that will start when we open our new location. Spaces will fill up with the back to school rush, save your spot now!!!
WHY SMALL FRY DANCE CLUB?
Awards winning program
Developmentally appropriate curriculum
Highly qualified staff
Classes start at 9 months
No yearly registration fee
Easy to schedule make up classes
Sibling & multi-class discounts
No required dress code
Bi-annual performances
Dance at our studio or at your school
We are the only dance school to focus on the preschool age group with over 80 weekly classes!

Need a dance class but not under age 5? PCPA is our dance program for ages 5 to adults.
PCPA is a creative and performing arts program that requires dancers to be both athletes and artists. Our ultimate goal is to instill dance intensity and drive inspired by much more than trophies and sequins. We believe in building strong fundamentals, technique, and discipline through dance training and performance experience. You can count on building a respect and love for dance whether you are training for personal or professional goals.
Go to PCPA Website