DANCE PERFORMANCES
All dancers enrolled in our Dance & Performance classes are eligible to take part in our bi-annual performances. These performances take place each June and December. The performances give your dancers the chance to show you everything they have learned in class in the previous months. They are family friendly, age appropriate shows. Each lasts roughly 30 minutes, with each dancer being on stage for the majority of the show.
Please note participating in the show is optional, but very fun!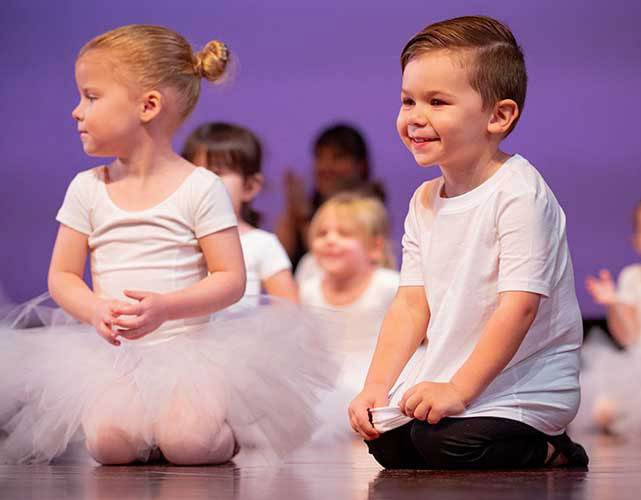 My dancer has never been on stage before. What can I expect? 
Our performances are a wonderful, stress-free way to introduce your dancer to theatre and stage. The experience will build their confidence and give them a better understanding of what to expect as they progress to older programs. The dancers will be lead by up to 5 teachers on stage, and will always have someone close by to help. While every dancer will react differently to being on stage, the majority of the kids (and parents) have a great experience.
Where do the performances take place?
All performances take place at the Cubberley Community Theatre in Palo Alto. Palo Alto is a good half way point between our studio dancers and south bay dancers.
How long are the performances?
Each performance lasts about 30 minutes.

How many dancers are on stage at once? 
We allow a maximum of 33 dancers on stage per show time..
Upcoming Performance
"You've Got a Friend in Me"
Sunday June 28, 2020
Cubberley Theatre – Main stage
Palo Alto California
Important Dates
Performance Participation Registration Open:
Late show Registration (add $10 to fee):
Registration closed:
Extra Tickets on sale:
Preschool dancers tickets mailed home:
Studio dancers pick up tickets:
Show Day!:
2/3/20 – 3/13/20
3/14/20 – 3/20/20 @ 5:00pm
3/20/20 @ 5:00pm
Tuesday 5/12/20
Monday 6/15/20
Monday 6/15/20
Sunday 6/28/20
Show Times Information
We group the show times based on the location you dance at weekly
All shows are at Cubberley Theatre in Palo Alto – The locations below are NOT the location of the performances.
You may select any show time that works with your schedule or you may dance with your assigned time slot.
All shows are the same, as all locations learn the same curriculum at the same time.
Your teacher does not need to be the lead teacher for you to participate. It is likely he/she will still be on stage with your dancer, just not in the "lead" role.
There are NO dress rehearsals or additional classes outside of your weekly class. We will cover everything in class during the season.
Please note, shows do fill up.  Once a show hour reaches 33 performers, we will close the registration. You can only add your dancer to a show waitlist if they are signed up for an alternate hour.   Wait-listing for this purpose means you would like to move to a different show hour.
Show #1 – 2:00pm – SHOW HAS FILLED
Assigned Dancers: Studio weekday dancers
Teacher Christa leading
Guest performance – PCPA
Show # 2 – 3:00pm
Assigned Dancers: Bright Horizons Gilead / Learning Links MV / KC Cisco
Teacher Stephanie leading
Guest performance – PCPA
Show #3 – 4:15pm
Assigned Dancers: EA Early Learning Center / Merry Moppet / Bright Horizons Redwood City
Teacher Karen leading
Guest performance – PCPA
Show #4 – 5:15pm – SHOW HAS FILLED
Assigned Dancers: Studio weekend
Teacher Nekai leading
Guest performance – PCPA
Show #5 – 6:15pm
Assigned Dancers: Happy Campers / Kids Connection / Papillon
Teacher Melanie leading
Guest performance – PCPA
General  Ballet Performance Curriculum Notes
Our performance curriculum for Dance and Performance classes will be focused on ballet from now through the end of June.
Participation Fee
Female Dancers – $110/ Late registration – $120
Male Dancers – $110 / Late registration – $120
Items included in bundled participation fee: 
Costume fitting
Costume delivery
Performance costume (Footwear not included)
Family tickets (2 tickets included; your performer does not need a ticket)
Student participation
Show programs
Small Fry performance patch
Costumes
Ballerinas – Female costume:
Pink Mirella camisole leotard (included in group order and fitting)
Pink Princess Aurora tutu (included in group order and fitting)
Pink tights (included in group order and fitting)
Pink leather ballet slippers (to be purchased individually)
Danseurs – Male costume:
Black ankle length legging (included in group order and fitting)
Gold long sleeve t-shirt from Primary (included in group order and fitting)
Cow print vest (included in group order)
Black leather ballet slippers (to be purchased individually)
Footwear
Ballerinas (female dancers) – Pink leather ballet slippers
Danseurs (male dancers) – Black leather ballet slippers
It is also a good idea to have your Small Fry start wearing their shoes to class at least 2-4 weeks before show time.
I recommend purchasing ballet slippers from Dance Theatre shop.
Dance Theatre shop is offering a 20% show discount to all performance families during the 2 weeks prior to the performance. This discount only applies to the 2 weeks preceding show time and does not run the length of our season. 
Dance Theatre Shop – 2 Locations
309 South B Street
San Mateo, CA 94401
(650) 340-7066
M-F 10am – 6pm / Sat: 10am – 5pm
982 El Monte Avenue
Mountain View, CA 94040
(650) 965 – 7066
T – F 10am – 6pm / Sat: 10am – 5pm
Hair
Female- Low bun with bun maker
Males-Combed neatly with product
Make Up
Wearing make up to the show is also up to you and your dancer.  It is common to enhance features, so dancers can be seen on stage.   For example; lips and blush.  You can decide as a family when you want to add this element.   
***IMPORTANT***
Please note, failure to follow costume and footwear requirements will result in ineligibility for participation in future shows.  If you have any questions, please ask.
This is a great learning experience for the Small Fry's.  Our rules and requirements are in place for safety, confident and comfortable dancers, and reinforcement of classroom curriculum.  Please trust our guidance as professional teachers and dancers. We want your children to have a wonderful experience and the details count!
Tickets
Extra tickets – $12 each PRESALE / $12 day of the show

Each family will receive 2 tickets with their performance fee.
Your dancer does not need a ticket.
Extra tickets – $12 each
Extra tickets will go on sale Tuesday 5/12/20
Extra tickets are first come first serve, must be paid for in advance, and are non- refundable.
We will create an online form for extra tickets sales.  The link to the extra ticket form will be live as of Tuesday 5/12/20 at 10am. We will email the link to show families.
Show Photos
Jeremy Fratkin of Fratkin studios will be at the show to catch your tiny dancer in action! These photos will be available online in a private Small Fry Gallery.  We encourage you to view and purchase performance pictures of your Small Fry!  Photography details will be emailed to performance families during the weeks following the performance.
Is your dancer 5 years of age or older? We have a program for them as well!
PCPA is a creative and performing arts program that requires dancers to be both athletes and artists. Our ultimate goal is to instill dance intensity and drive inspired by much more than trophies and sequins. We believe in building strong fundamentals, technique, and discipline through dance training and performance experience. You can count on building a respect and love for dance whether you are training for personal or professional goals. CLICK HERE TO SWITCH TO PCPA