DANCE PERFORMANCES
All dancers enrolled in our Dance & Performance classes are eligible to take part in our bi-annual performances. These performances take place each June and December. The performances give your dancers the chance to show you everything they have learned in class in the previous months. They are family friendly, age appropriate shows. Each lasts roughly 30 minutes, with each dancer being on stage for the majority of the show.
Please note participating in the show is optional, but very fun!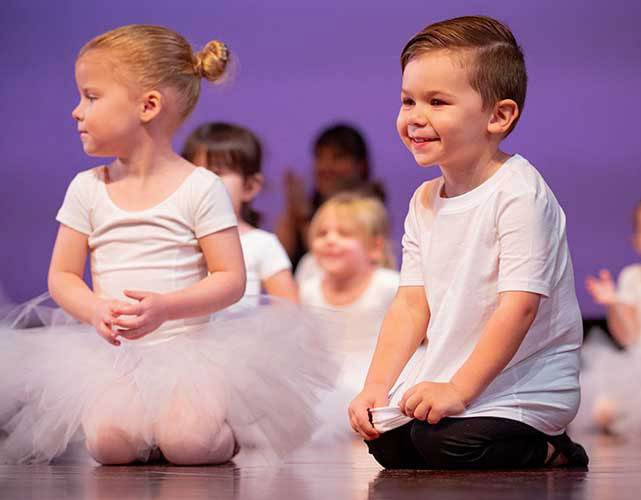 My dancer has never been on stage before. What can I expect? 
Our performances are a wonderful, stress-free way to introduce your dancer to theatre and stage. The experience will build their confidence and give them a better understanding of what to expect as they progress to older programs. The dancers will be lead by up to 5 teachers on stage, and will always have someone close by to help. While every dancer will react differently to being on stage, the majority of the kids (and parents) have a great experience.
Where do the performances take place?
All performances take place at the Cubberley Community Theatre in Palo Alto. Palo Alto is a good half way point between our studio dancers and south bay dancers.
How long are the performances?
Each performance lasts about 30 minutes.

How many dancers are on stage at once? 
We allow a maximum of 33 dancers on stage per show time..
  Upcoming Performance
"Becky From The Block"
Sunday, December 15, 2019
Cubberley Community Theatre – Main Stage
4000 Middlefield Rd (Main Entrance)
Palo Alto, CA 94303
Please note, shows do fill up. Once a show hour reaches 33 performers, we will close registration for that hour. You can only add your child to a wait list, if you have registered for an alternate show time. Wait-listing for this purpose means you would like to move to a different show hour.
Show Times
We offer 5 different show times on performance days. You will notice below that we have assigned certain locations, to certain showtimes. This is to give you the greatest odds of dancing with your classmates. However, you may choose any of the show times listed when you register. If there are friends you know you want to dance with on stage, you should coordinate with them directly and pick a show time that works best for you. All locations we teach in will learn the same material, this is why it will not matter which show time you choose. All shows will dance the same numbers on stage.
2:00pm – 33 Dance Spots – SHOW HAS FILLED – YOU MAY SELECT ANY OTHER TIMES
Studio Weekday Dancers
Teacher Karen Leading
Guest performance – PCPA Soloists
3:00pm – 33 Dance Spots – SHOW HAS FILLED – YOU MAY SELECT ANY OTHER TIMES
Bright Horizons Gilead / Merry Moppet / Kindercare Shores / Bright Horizons Redwood City / Any Studio Dancers
Teacher Torie leading
Guest performance – PCPA Soloists
4:15pm – 33 Dance Spots – SHOW HAS FILLED – YOU MAY SELECT ANY OTHER TIMES
EA Early Learning/ Learning Links / Kindercare Cisco / Any Studio Dancers
Teacher Stephanie leading
Guest performance – PCPA Soloists
5:15pm – 33 Dance Spots – SHOW HAS FILLED – YOU MAY SELECT ANY OTHER TIMES
Studio Weekend Dancers
Teacher Melanie Leading
Guest performance – PCPA soloists
6:15pm – 33 Dance Spots
Happy Campers / Kids Connection / Papillon / Any Studio Dancers
Teacher Jana Leading
Guest performance – PCPA soloist
General Hip Hop Performance Curriculum Notes
Our performance curriculum for Dance & Performance classes will be focused on hip hop from now through the end of December.
Important Dates
Performance Participation Registration Open:
Late show Registration (add $10 to fee):
Registration closed:
Extra Tickets on sale:
Preschool dancers tickets mailed home:
Studio dancers pick up tickets:
Show Day!:
8/22/19 – 9/30/19
10/1/19 – 10/4/19 @ 5:00pm
10/4/19
Monday 11/4/19
Monday 12/2/19
Monday 12/2/19
Sunday 12/15/19

Participation Fee
All dancers – $95
Late registration – $105
Items included in bundled participation fee: 
Costume (shoes are separate)
Family tickets (2 tickets included, your performer does not need a ticket)
Student participation
Show programs
Small Fry performance patch
Costumes
Female Performer Costumes (provided by SFDC)
Female Motion Wear Dryline Lime Green Biketard
Pink Bandana
Knee High Socks
Shoes (provided by family)
Male Performer Costumes (provided by SFDC)
Lettuce Turnip The Beet T-shirt
Jogger Pants
Hat
Shoes (provided by family)
Footwear
All performers will need to purchase their own footwear. For this performance you will need the Chuck Taylor All-Star Galaxy Dust Sneaker in Orange Rind Color.
 The shoes come in two versions. Lace up and Strap. You may purchase either one.  Below are a few places we found them, but you can purchase them anywhere you'd like. 
Hair & Make Up
Female Dancers – High Ponytail
Male Dancers – Combed neatly, fresh cut
Wearing make up to the how is up to you and your dancer. It is common to enhance features so dancers don't get washed out by the stage lights. For example; lips and blush. You can decide as a family when you want to add this element.
***IMPORTANT***
Please note, failure to follow costume and footwear requirements will result in ineligibility for participation in future shows.  If you have any questions, please ask.
This is a great learning experience for the Small Fry's.  Our rules and requirements are in place for safety, confident and comfortable dancers, and reinforcement of classroom curriculum.  Please trust our guidance as professional teachers and dancers. We want your children to have a wonderful experience and the details count!           
Tickets
Extra tickets – $12 each PRESALE / $12 day of the show
Each family will receive 2 tickets with their performance fee.
Extra tickets – $12 each during presale dates (11/4/19 – 12/13/19)
Extra tickets will go on sale Monday 11/4/19
Extra tickets are first come first serve, must be paid for in advance, and are non- refundable.
Extra tickets are limited, and shows do sell out.
We will create an online form for extra tickets sales.  The link to the extra ticket form will be live as of 11/4/19 at 10am.
Show Photos
Jeremy Fratkin of Fratkin studios will be at the show to catch your tiny dancer in action! These photos will be available online in a private Small Fry Gallery.  We encourage you to view and purchase performance pictures of your Small Fry!  Photography details will be emailed to performance families during the weeks following the performance.
Need a dance class but not under age 5? PCPA is our dance program for ages 5 to adults.
PCPA is a creative and performing arts program that requires dancers to be both athletes and artists. Our ultimate goal is to instill dance intensity and drive inspired by much more than trophies and sequins. We believe in building strong fundamentals, technique, and discipline through dance training and performance experience. You can count on building a respect and love for dance whether you are training for personal or professional goals.